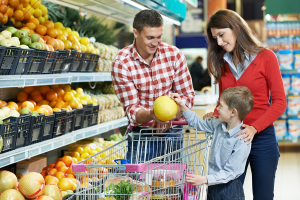 Our registered dietitian nutritionists provide innovative nutrition services that can make your store stand out from the competition! The grocery store is where people make decisions about what they feed their families every day – it's where you make your money. Our dietitians help your customers make better food choices and increase your sales. Here are some projects our dietitians have worked on:
What's for Dinner tonight? At 4:00 p.m., most American's don't know what they are eating for supper. Our dietitians can create in-store or on-line social media programs suggesting balanced dinner ideas for your customers. Facebook posts can go up each day at a specified time providing ideas for dinner that night. Weekly menu plans can be located in a convenient place in your store for customers to pick up, encouraging them to purchase the simple meal components. An example of one store's media campaign is here.
Food Allergy and Intolerance Education: There is a big disconnect between what people hear from their doctors and what foods they can actually purchase at the store. Our dietitians can help with this by developing education materials, labeling products on the shelves (such as gluten-free), or even providing in-store classes. Services can be provided one time only or as an ongoing in-store program.
Cooking Demonstrations and recipe development: In store or online cooking demonstrations can help give your customers the knowledge they need to feed their families right. Simple demonstrations show customers how to put together easy menu ideas with common ingredients found right on your shelves. One online program that can easily be incorporated into your social media platforms is our Nutritious Dish™ video segments and recipes which can be viewed here.
Educate about reading food labels: Incorporating nutrition information from food labels into daily dietary advice can be challenging for most people. Our dietitian can provide classes or brochures to help your customers understand the label information helping them make informed decisions when feeding their families.
Make your deli and catering services more profitable! One thing we found when working with grocery stores is that many do not have standardized, easy to read recipes for their deli staff. This results in confusion and a product that varies depending on who makes it. Our dietitians are experts in writing standardized recipes and can even help you cost out the product so you know what to charge to make a profit on it. An example of a recipe before and after our dietitians worked on it is here.