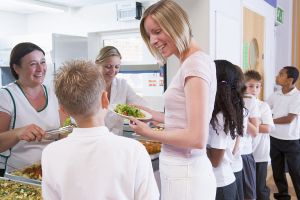 Our licensed registered dietitians can review your recipes and cycle menus to provide documentation that all the food components required by the USDA are served to your students.  We even provide help with calculating food costs when needed!
Our dietitians can work directly with your state regulators and provide them the documentation needed to keep your school cafeteria open and receiving federal reimbursement. Our services allow your food service directors and school nutrition staff to concentrate on serving delicious meals that children love, rather than spending their time researching Child Nutrition Labels and calculating food production records.
Services are provided at the hourly rate of $59/hour plus travel expenses. No project is too small, and we are just a phone call or email away.